A bit of
flarf
google-sculpting: busy weekends are like codependents who seek out abusive relationships. And even worse, you're doing it to your fans! Ahhhhh…those filly weekends!
Friday night: managed to score tickets to a sold-out screening of Godard's
Histoire(s) du cinéma
Parts 1 & 2 at UCLA. A densely layered, poorly translated video, but a sweetly immersive experience. Pure chocolate to a Godard-fan. Several narrators speak at once (in French, in English, in French), words flash on the screen in irregular patterns, and every five minutes Godard proclaims "Histoires du Cinema!" in a nice, thick pompous voice. As a friend said, "at some point text becomes texture." Sayeth film critic Jonathan Rosenbaum, "Just as
Finnegans Wake,
the artwork to which
Histoire(s) du cinéma
seems most comparable, situates itself at some theoretical stage after the end of the English language as we know it, Godard's magnum opus similarly projects itself into the future in order to ask, 'What was cinema?'" Parts 3 & 4 screened Sunday. Alas, I didn't make it.
Saturday afternoon: a visit to
The Southern California Library for Social Studies and Research
. Wow. I'm surprised more Angelenos aren't aware of this incredible community resource. Supposedly the largest archive of its kind in the United States, the library has hundreds and hundreds of flatfiles, shelves and file cabinets stuffed with historical pamphlets, newspapers, books, magazines, recordings, videos, ephemera and personal archives documenting the history of social struggles and movements in greater Los Angeles. Everything from the Charlotta A. Bass Collection (papers of the blacklisted editor and publisher of the oldest African American newspaper in LA and the first African American woman to run for Vice-President in the United States – on the Progressive Party ticket) to old IWW recruitment films from the 1930s to an audio recording of Huey P. Newton's birthday party in 1969. Browse their website and consider donating or stopping by when you're next in Angeltown.
Saturday night: a quick run by
Kordansky Gallery
in Chinatown to check out Nicolau Vergueiro's second solo show,
A Thousand Openings
.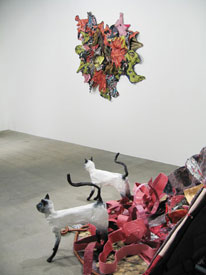 Nicolau Verguiero
, A Thousand Openings
Later Saturday night: ran across town from Chinatown to Venice just in time to catch Jennifer Moxley and Aaron Kunin at
Beyond Baroque
. Kunin read poems from his book
Folding Ruler Star
in what sounded to me like a sinister voice, but a friend described it as the voice one might hear on an airport intercom (which is sinister in its own way). It was great to hear Kunin's poems live, which actually strengthened them in my estimation. The voice in my head was much more timid. The work Moxley presented, in manuscript, was more narrative than I'd heard from her before (one piece was actually a memoir), but the new prose poems, which have lately turned up in journals
here
and
there
, may have been responsible for my Fourieran dreams later that night.
Later still Saturday night: out with friends to a dive bar in Atwater Village. Distracted by a girl playing darts. I couldn't decide if she was a complete stranger or an old friend from college, and didn't want to risk the embarrassment of saying, "Hey aren't you…" and being mistaken. Meanwhile, over a few beers,
Stan Apps
explained how the Fed manages to make the wealthy even wealthier through a convoluted system of borrowing and lending.
Sunday afternoon:
The Sunset Chronicles
, Part III, in which wooden citizenry dreams of vegetable flight and abandoned movie palaces project the ghost life of marionettes. Or a really good puppet show.