My absence from the blogosphere (how I hate that word) is justifiable. Chalk it up to other priorities. I had meant this blog to be a live journal of various cultural events and artifacts, but events have come and gone and I regret my inattention. Herewith are a few things.
My recent visit to New York City provided an opportunity to catch a few exhibitions.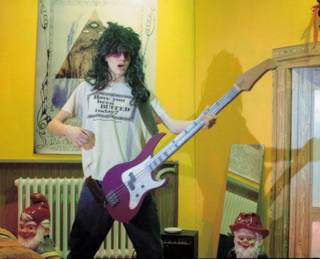 From Sue De Beer's
Hans und Grete
The Whitney Biennial
. Highlights included work by
Ernesto Caivano
(whose dream-birds mind-meld the fantasy art of Brian Froud),
Sue de Beer
(Dennis Cooper must love her),
Robyn O'Neil
(so lonesome), Chloe Piene,
Aïda Ruilova
(lifting Lung Leg), and Catherine Sullivan. Hmmm. Surveying this list, I see I have a lotta love for drawing and video. Well, harrumph! None of the painting really excited me; with the exception, perhaps, of
Julie Mehretu
, with whom I'm still wrestling. Her elephantitic canvases seem too slick on approach.
Singular Forms (Sometimes Repeated)
at the Guggenheim. My first face-to-face with the Gug – Lloyd Wright seemed much more a presence than Rauschenberg, Judd, Ryman, et al. I prefer Judd out in
Marfa
and environs. Flavin always fells me, though. The most successful installations were those that were given room (and given rooms): Robert Irwin's
Varese Scrim
, whose false wall truly astonished me, and Rachel Whiteread's
Untitled (One Hundred Spaces)
, the minimalist's graveyard.
Open House: Working in Brooklyn
at the Brooklyn Museum. Should have made some notes closer to seeing this one, it's flown my noggin now. I was greatly disturbed by the evident militarization of New York; as we ascended from the subway at the Brooklyn Museum, a small army of policemen in swat gear and rifles-at-the-ready watched and smiled.
Closer to home, MOCA trots out
A Minimal Future? Art As Object 1958-1968
, while across town LACMA ones them up with
Beyond Geometry: Experiments in Form 1940s-70s
. Regarding
Art As Object
, I'd have to agree with
Yve-Alain Bois
, who writes in Art Forum, "Regrettably, the show offers not the tiniest bit of scenario. No chronology, no typology, no label explanations whatsoever, resulting in an exasperating feeling of pure randomness for anyone not already in the loop." How was little old me to know that "the juxtaposition of the hideously decorative pastel-painted, canvas-covered beams by Judy Chicago with a series of Robert Smithson's jejune early geometric objects (in poor physical shape)" was chosen because they were "side by side at the famous 'Primary Structures' show of 1966"?
Beyond Geometry
is large and expansive, as its name suggests. Almost as great as the art was hearing random public reaction to it. "Disgusting!" cried a woman staring at a
Judd box
. Another, staring at the photo documentation of Eleanor Antin's
Carving: A Traditional Sculpture
, which documents the artist's gradual loss of weight: "Don't bother looking at this one, honey. It's just a naked girl repeated over and over, for no discernable purpose." Lots of folks were there though. I'm taking my mom this weekend.